Las personas no hablan igual que como escriben; además, la mayoría de los idiomas usan un estilo diferente para el texto escrito que para el texto hablado. Es importante trabajar con traductores que tengan experiencia en el uso del lenguaje oral. World Translation Center emplea a traductores experimentados familiarizados con grabaciones de audio que harán que su proyecto suene como si se hubiera originado en el idioma seleccionado. Otra consideración es que los idiomas utilizan una cantidad diferente de palabras para transmitir el mismo significado. El francés, por ejemplo, usa un 25% más de palabras que el inglés. Nuestros traductores para grabaciones de audio entienden la importancia de mantener el texto a la misma extensión que el original, para que se pueda grabar fácilmente en el tiempo disponible.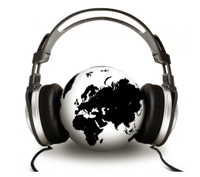 Si hay varios personajes en un video, también es importante usar una forma de hablar diferente para cada personaje, para que el video y los personajes suenen interesantes y auténticos. Nuestros traductores están familiarizados con estas diferencias y pueden aplicar diferentes estilos a cada personaje a solicitud.
La traducción se puede realizar directamente a partir del video sin transcribir el contenido, o podemos transcribir el contenido, crear un guión y luego proceder a traducirlo.
Puntos de sincronización
Los videos instructivos a menudo tienen puntos de sincronización o texto en pantalla en ciertos momentos del video. Por eso, la traducción necesita coincidir o reformularse de modo que coincida con el video para que la nueva grabación se pueda oír simultáneamente con la aparición de los puntos de sincronización o el texto en pantalla.
Ejemplo de una traducción apropiada:
Inglés original
Texto traducido
With your other hand, slowly turn the white pen body several times in the direction of the arrows until you see a

"2"

in the window and hear a click.
Con la otra mano, gire lentamente la pluma blanca varias veces en la dirección de las flechas hasta que vea un

"2"

en la ventana y oiga un clic.
En una presentación en PowerPoint con gráficos, cuando el moderador explica cierto elemento en el gráfico, se debe oír su explicación en el momento en que su láser apunta hacia el gráfico y no un minuto después. Los traductores de audio toman en cuenta esos puntos de sincronización en su traducción para facilitar el proceso de adaptación y la grabación por el locutor.
Nuestras traducciones de guiones de audio incluyen:
Videos de todo tipo de tema
Presentaciones en PowerPoint
Sistemas de telefonía
Sitios web
Audiolibros

y otros tipos de guiones de audio
World Translation Center solo emplea a traductores humanos profesionales para todas las traducciones de documentos. Todos nuestros traductores trabajan en su lengua materna, suelen vivir en su país de origen, y solo traducen a su lengua materna para asegurar la más alta calidad posible de traducción. Tomamos la calidad muy en serio y siempre empleamos a traductores probados y comprobados.
World Translation Center brinda servicios de traducción de documentos y de locución de alta calidad a las principales empresas del país y a firmas jurídicas y financieras, profesionales de salud, agencias de mercadotecnia internacionales, entidades gubernamentales, organizaciones sin fines de lucro y compañías de todo tamaño.